(Makes 4 hamburgers)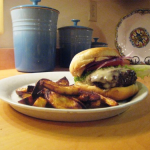 1 ½ lbs ground beef
Whisk together and pour over beef:
1 egg lightly beaten
2 teaspoons soy sauce
2 teaspoons Worcestshire sauce
1 tablespoon Dijon mustard
1 tablespoon ketchup
1 teaspoon dried minced onion
½ teaspoon garlic powder
½ teaspoon salt
¼ teaspoon fresh ground pepper
Add ¼ cup bread crumbs and using hands gently mix all ingredients together. Form medium size patties about ¾ inches thick and grill over medium-high heat for 2 ½ -3 minutes per side. DO NOT PRESS with spatula!