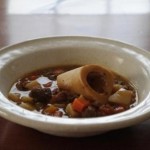 Hearty and healthy this Vegetable Beef Barley Soup is cooked with beef marrow bones for an extra nutrient and flavor blast:
Ingredients
2 bone in grass fed shanks,
1 medium onion, diced
1 cup carrots cubed
2 celery ribs chopped
1 large potato or 2 medium, cubed into 1/2-inch pieces
6 teaspoons beef base
8 cups water
2 tablespoons olive oil
1 can diced tomatoes or 2 fresh tomatoes diced
salt and pepper, to taste
1/2 cup barley cooked seperately
Directions
In 5 or 6 quart pressure cooker brown beef on all sides in oil.
Stir in all ingredients EXCEPT tomatoes.
Lock lid on pressure cooker (follow the directions and safety precauctions of your pressure cooker)and cook on high until the weight begins to "jiggle"/ hiss.
Lower heat to slow consistent "jiggle"/hiss and cook for 15-20 minutes.
Remove from heat and let pressure release conventionally.
Stir in tomatoe and return to stove and simmer an additional 5-10 minutes
Cook barley separately and add.
Cut beef off bones and return to pot.